Aging adults often experience the repercussions of feeling isolated. This affects their overall health and well being. Agape's miniature horses create joy and motivation to socially connect with others.
Agape offers Mobile Miniature Horse Visits to your Senior Citizen facility.
During this experience residents will have the opportunity to pet, brush, lead (if appropriate), dress up the horses, and engage in conversations about horses. Most of all, visits from the miniature horses light up the room and bring smiles to faces who don't often do so!
Horses help these individuals: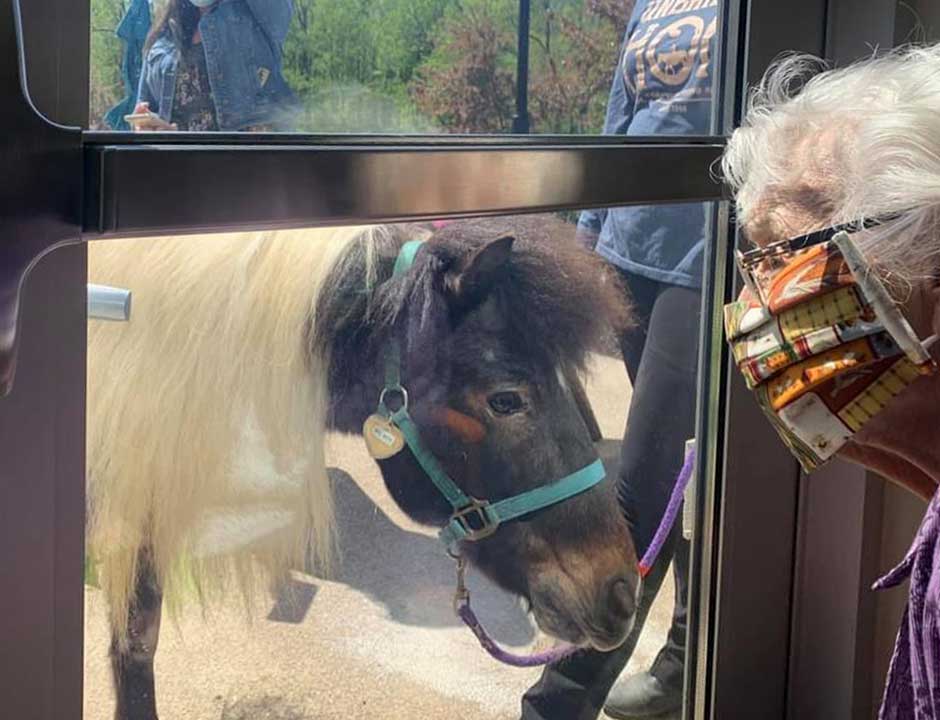 "In my many years working as not only an Activity Director, but also supporting our Life Enrichment & Memory Care programs I have been blessed to witness the joy the mini horses bring to the ones we serve. Something about animals (especially mini horses)…they have the ability to speak to those who may have the trouble finding the words." In many ways Agape had contributed to her growth. She has developed healthy relationships with her horse, staff, and fellow riders. She is learning to more effectively identify her emotional state and work through addressing her needs to make changes when necessary. Caring for her horse is teaching her a responsibility that is carrying over into life away from the barn. And she is displaying a respect for others that is refreshing. We both love Agape!!"
Life Enrichment & Memory Care Staff
Trilogy Health Services