A History of Unconditional Love
Agape is a Greek word that means "unconditional love," a guiding principle that has anchored Agape Therapeutic Riding Center's approach since we first opened our barn doors in 1986. Today, as we look ahead to our next chapter, unconditional love continues to guide all of Agape's work, from enhancing cognitive, physical, emotional, and social well-being of people with disabilities by teaching horsemanship skills to developing critical life skills and personal well-being through equine facilitated learning programs.
Building Our Next Chapter
As Indiana's largest and oldest therapeutic riding center and a Premier Accredited Center through the Professional Association of Therapeutic Horsemanship International, we are proud to have experienced tremendous growth over the last thirty-five years. Not only have we reached maximum capacity and levels of services at Agape's Headquarters located in Cicero, Indiana, we have a second location in Greenfield, Indiana, where we provide ever-growing services, seasonally, with the plan to expand to a year-round facility.
The organization has secured its next location to replace the North site and begun visioning sessions to scope out preliminary site plans. As we continue to watch the impact of our unique, high-quality programs grow at multiple Agape locations, we recognize the need to address key sustainability issues in order to continue to serve a broader population and further expansion of services throughout Central Indiana.
To ensure that the expansion opportunities uncovered through the planning process were highly informed not only by the needs of our organization, but also by the true needs of the Central Indiana community, the Board of Directors have begun the process by conducting a comprehensive Strategic Planning Audit, which includes:
An External Stakeholder Assessment utilizing a combination of in-depth phone interviews and an electronic survey to collect input from community stakeholders
A comprehensive Internal Organizational Assessment with members of our Board of Directors and Staff to identify internal strengths, challenges, and opportunities
A Comparative Analysis of two comparable therapeutic riding centers to identify potential strategies to strengthen our organizational model as we grow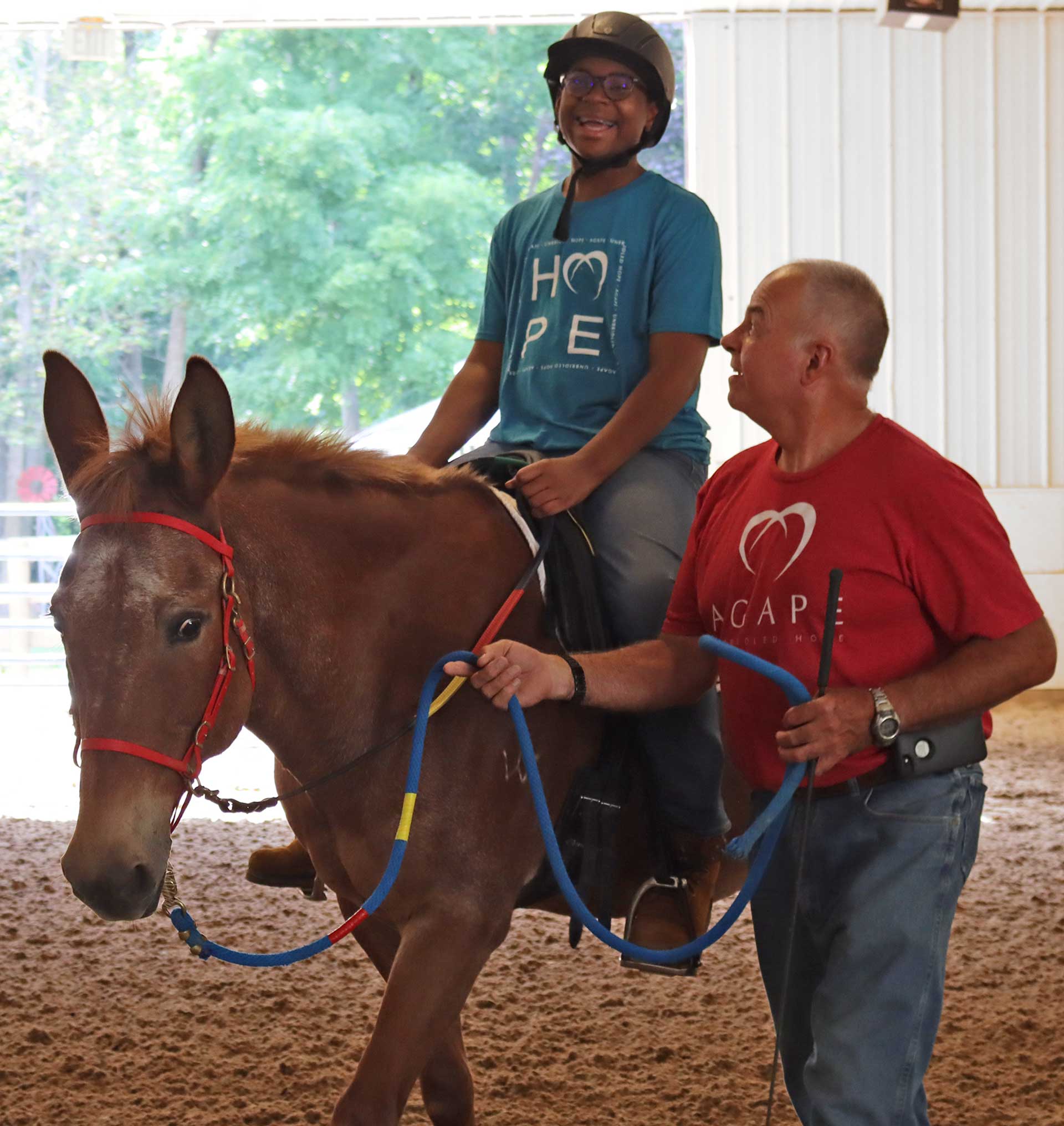 Through this inclusive research process, several key themes emerged.
While current staff, horses, and volunteers are managing program delivery and operations exceptionally well, Agape does not have the physical space, horses, or personnel to expand and sustain long-term services at the Cicero (North) location. Yet, community stakeholders agree that we should serve more individuals throughout Central Indiana beyond the continued growth at Greenfield. In order to serve more individuals, we will need additional physical space, more horses, an additional indoor arena, more storage for equipment and hay, and more office space for a growing staff, all of which creates an opportunity for expansion that our leadership agrees should be driven by collaboration with other organizations that serve similar populations so that Agape's programs can supplement existing supportive services. Additionally, the first phase of site improvement was completed at our Greenfield location in January 2021 with a covering over the outdoor arena. Secondly, Agape has contracted with the Veridus Group to begin site planning and visioning sessions for the new site to replace the North location.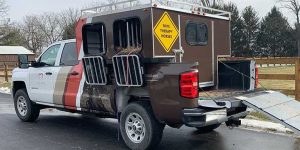 Increasing Community Knowledge​
Agape's online presence has created increased attention from the community, including new donors, volunteers, and program participants. As we continue to grow, we have a significant opportunity to increase awareness about our approach and the features of Agape that are unique in the equine therapy industry, such as multiple locations, the ability to provide training for instructors, our Mobile Minis, corporate leadership and team building experiences and demonstrated program impact.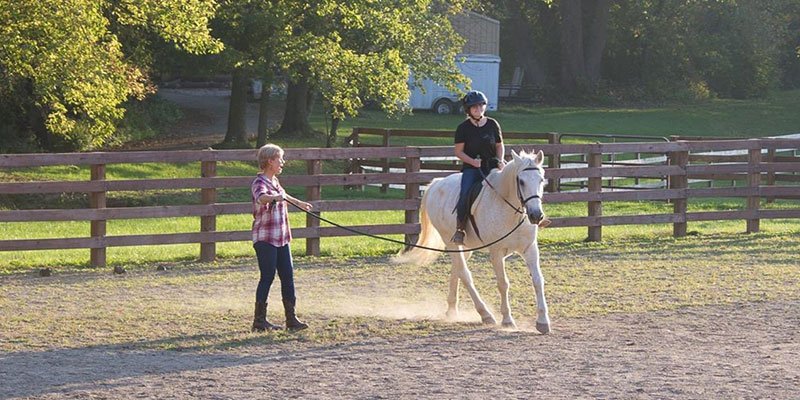 Responding to Mental Health Needs​
As Mental Health America notes, "while 1 in 5 people will experience a mental illness during their lifetime, everyone faces challenges in life that can impact their mental health." Now more than ever, we need to break the stigma of seeking help and enable access to mental health treatment and education. With that in mind, Agape has the ability to give hope and steward healing through unique equine-assisted activities. Agape has a proven history of serving groups such as Bridges of Hope, Hickory House, Prevail, Grit Into Grace, Ascent 121, Brooks Place and more, which are organizations who work with individuals recovering from addiction, working through trauma responses, grief and mental health challenges.
Drawing on the comprehensive data and key findings from the Board of Directors January 2020 and 2021 retreat and subsequent planning meetings, the Board carefully weighed a variety of opportunities for expansion against the needs of the Central Indiana community and our organization, our leadership identified the following three-year vision for Agape's growth and sustainability:
"By 2023, Agape will have relocated our Cicero location to a more sustainable site with more program expansion opportunities, increasing access to our premier horse facilitated therapeutic programming, while also investing in our Greenfield location."
Utilizing this anchoring vision for the organization, Agape's staff and Board of Directors partnered to create an action plan in which each three year priority was carefully developed to build our capacity and impact, preparing Agape to sustainably scale to a new North location, while expanding our impact at the East location.
Focus on maintaining program quality while increasing program diversity to ensure sustainable and impactful services.
1.A. Create assessment protocols for instructor performance and curriculum effectiveness.
1.B. Conduct assessment to determine community needs to inform program diversity.
Prepare for business continuity and expansion while retaining and developing top talent.
2.A. Create structure for pipeline development for key leadership and instructor roles.
2.B. Create and implement professional development, while enhancing the culture and broadening staff and Board perspective.
Establish a sustainable financial model that will scale to support expansion.
3.A. Strengthen and systemize fundraising expectations, storytelling, donor prospecting, cultivation and stewardship for all members of the Board and staff.
3.B. Prepare for and execute a comprehensive capital campaign to fund the expansion to a new North location, while also enhancing the site needs of the Greenfield location.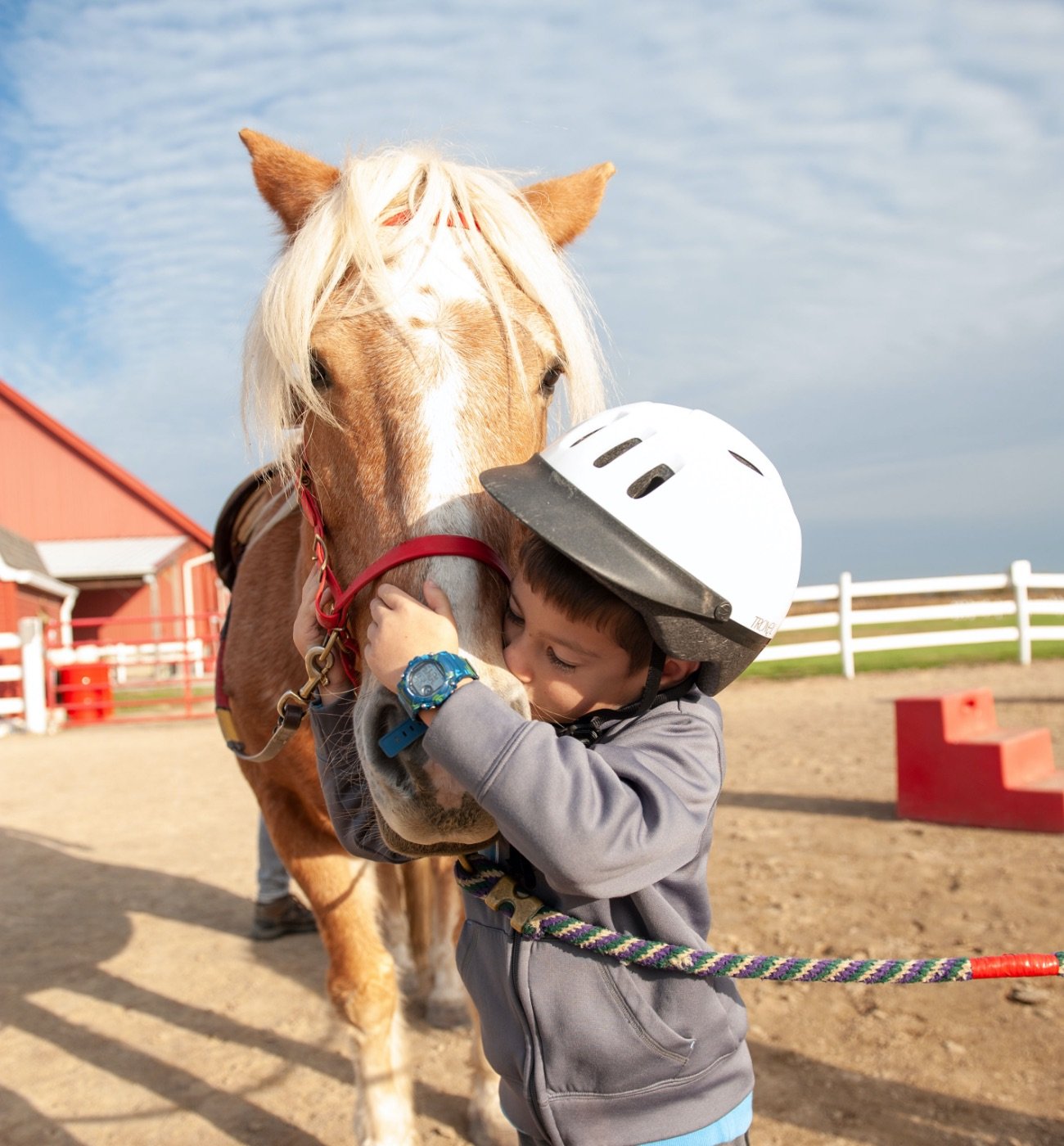 Action Plans & Implementation
In addition to identifying these three-year priorities and strategies, our staff also developed a 2021-2023 Action Plan, which includes annual action steps, expected annual outcomes, and accountable leadership required to successfully implement each strategy during the duration of the three-year plan. This supplementary 2021-2023 Action Plan will serve as a roadmap for the organization's strategic activities, coupled with a complementary Outcome Dashboard tool that will allow for continual measurement of progress toward all targeted outcomes.